Sunday, April 17, 2011
Created by

Tierra
at 10:54 PM
0 Comments


Here is my contribution to this week's challenge at I Heart Faces. The wind kept on getting her hair all over her face and this one survived the struggle. Just enough wind. Check out the other submissions at:


Created by

Tierra
at 3:01 PM
1 Comments


Saturday, April 9, 2011
Today was the day! I hosted the first clothing swap and it was spectacular. I feel bad that a lot of people decided not to participate. There was a TON of clothes there. You will see from the pictures how grand it was. I was going through every room in my house (including the garage) and getting rid of. I have two kids ages 6 and almost 3. Who knows when/if we will have another kid and by the time we did the clothes that my kids wore would be out of style or I just wouldn't want to use them anymore. So, out with the old and in with.....well.....empty plastic boxes. Woo hoo! I sent out an invitation to all the ladies that lived near me to my clothing swap. Here are the rules so you know what I did.
1. To participate you must give. Meaning, if you want to come and get things then please bring stuff to share. This is all free. Also, make sure what you are donating are things that you for sure want to get rid of.

2. You must bring items that are in clean and working order. No one wants broken, ripped, damaged, stained or worn-to-threads items. Plus, I don't want to be left with it all at the end.

3. You must bring items that can be donated to Deseret Industries or Goodwill when this is all over.

4. When you bring things over to my house please have them already in their sections. Meaning clothes (preferably by section: baby, toddler, girl, boy, woman, maternity), jewelry, books and toys. I don't want to spend time separating.

5. For toys - If you have small toys like Barbie items please put them all together in a Ziploc bag. Also make sure there are matches to it all. I don't want one shoe without the other;-) If you have anything that needs a battery please make sure it is working when you bring it so that people can see that and test it out.
Here is a list of things that you can bring. Make sure everything works.
It was fun going through all the clothes and I ended up keeping about 15ish outfits between the two kids for their hope chest. It's always fun to see what you wore when you were little. Plus I couldn't get rid of my favorites. Just so you know: Pretty much all you see in this room is what came from me. A few things here and there came from the other people. I can't believe how many shoes my kids have. Well, the clothes too.
I had about half of the room in infant-24 month girl clothes and shoes. The clothes on the right of this first picture was 2T-5T girls clothes. In the two tables in the middle were infant-2T boy clothes.
This room was for the adults. You can see the purses in the bottom left hand corner.
I had a lot I got rid of in this room as well. I piled up maternity clothes and others that I just wasn't wearing. I also had about 10 pairs of shoes I cleaned out. On the couches were women's shirts, skirts, and dresses.
All in all it was a great day. Crazy. I wish more people would have participated because we took loads to DI (like Goodwill). It's funny. Most of the infant-24 month clothes didn't get touched. Most of the people that participated had older kids. Oh well. Their loss. It feels so good to have a more organized, less cluttered home. I still have to go through my craft room but that will be a different night and I will be selling instead of giving away. Although it may feel like I'm giving them away since they will be marked way down. I just want to get rid of more stuff. Organize even more.
This will be happening again but not to this scale (since I don't have that much stuff anymore) and it will just be one thing. Like jewelry, or books, or men's clothes, or home decorations, etc..... I think more and more people will start to do this. It's fun and you get new stuff (to you.) Plus you get to have a girl's night.
Created by

Tierra
at 9:42 PM
1 Comments


Thursday, April 7, 2011
I have been inspired, after talking to a friend, to do a clothing swap. She was telling me that there is a huge one that she goes to every year and comes back with bags and bags of stuff. Well, that sounded awesome. It was all free and she got to get rid of stuff too.
I decided that I wanted to do it. Well I went a little crazy in my house. I went through every room in my house and pulled out everything I wanted to get rid of. Let's just say that I am major spring cleaning and it feels SO good to do it.
I have been holding on to clothes that my kids grew out of since my 6 year old was a baby. I only have the two kids and who knows if/when we will have another one. By the time I were to have another child (if I got pregnant now) my oldest would be 7 and then all the clothes I loved then would not be what I will love now. So, I cleaned out EVERYTHING that didn't fit my kids now. That is a lot of clothes. So, I have infant-5T clothes from my daughter and infant-24 month from my son. I also have toys that they don't play with anymore that I am getting rid of. On top of those, I have my clothes, shoes, purses, books, and homeware I'm giving away.
This is about half of what I am getting rid of. Awesome right? I am not going to know what to do with all the space. Be organized maybe? I will have about 15 bins that will have nothing in them after this. Hmmmm. What to put in them.
So, get inspired. Do some cleaning. Do a swap.
I will post about the swap. It will be happening in two days.
Just for your information. This is a swap that has only items that can be donated after it's done. Meaning that all items donated needs to be in clean and in working order. No rips, stains, broken, etc...
Bring items to share, take things home. For free. Everything else will be donated to Deseret Industries/Goodwill. A good cause all around.
This is one of those swaps that's going to be crazy but I plan on having more after this. Only more specific. This time it is all clothing, toys, books, and jewelry. The next one would maybe just be home decor. Or maybe men's clothes, or shoes, or whatever everyone is interested in swapping.
Created by

Tierra
at 9:08 AM
1 Comments


I was blog hopping this morning when I came across this. It is a cookie sheet that she painted. It is a magnetic board for all her daughter's princess magnets. So cute. I love it! She also has other ideas to paint on it and a ton of magnet ideas too!
Go to A Girl and a Glue Gun to see the tutorial she did.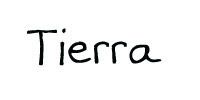 Created by

Tierra
at 8:34 AM
0 Comments